Why Tambone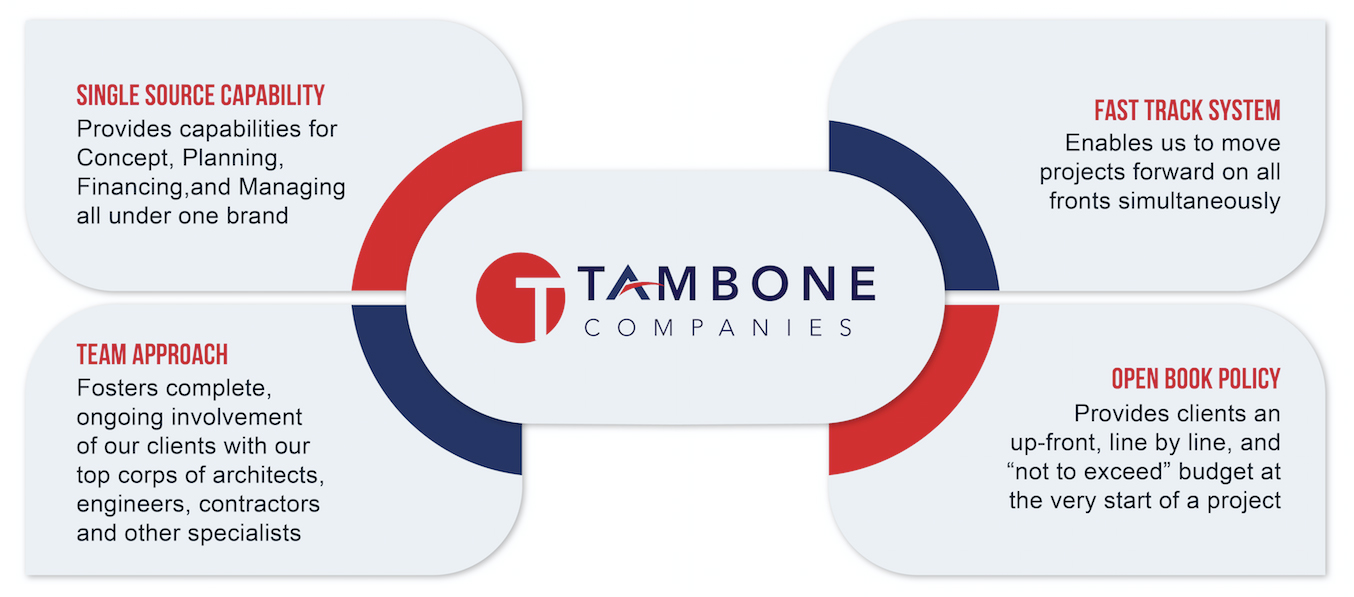 Single Source Capability
The age-old maxim that "too many hands cause problems" has significant relevance for companies in transition, which must continue to operate efficiently while seamlessly progressing toward the goal of relocation, expansion or upgrading.
When multiple participants – architects, engineers and contractors – are out sourced, the result is often an overall lack of coordination that inevitably wreaks havoc in the form of delayed construction schedules, cost overruns and a host of other unexpected problems.
Tambone's single source approach offers clients an acute, finely-tuned level of coordination that thwarts these risks and affords them the opportunity to focus on the necessary task of running their own businesses. We work as a team to discover and deliver exactly what our clients want, addressing both their current and future needs, and personally handling every facet of the development process including:
Concept Creation
Feasibility Studies
Permitting
Zoning
Financing
Design
Construction
Build to Suit for Lease Back or Ownership
Retrofit/Renovation
Interior Build Out
Occupancy
Management
Team Approach
Every client is different, distinguished from every other client by an individualized set of highly specialized needs and goals. This simple but often overlooked premise is the driving force behind Tambone's team approach, which in turn, is a defining strength in our ability to produce excellence for our clients.
Paramount to the success of our team approach is full participation of the client. We cultivate a close alliance with each in order to clarify its objectives, gain in depth knowledge of its long term business vision and determine the development and ownership scenario that will be most advantageous to the client.
We then utilize these insights to assemble the project team best able to deliver on the customized requirements of the client. Working in full collaboration, our architects, contractors, engineers and other professionals bring an accumulation of knowledge, expertise and experience to the table that is precisely dovetailed to the task – regardless of its size, complexity or sophisticated technological demands. Integral to the team's contribution is an understanding that all environments must be adaptive to the inevitability of change, capable of meeting not only current needs, but future needs as well.
Client involvement continues throughout the life of the project, adding value at every major decision point. Weekly client meetings are essential to produce "action items," foster communication and careful planning, anticipate challenges, sidestep problems, and avoid hidden costs and uncomfortable compromises.
Fast Track System
Tambone employs a logical, systematic approach which enables a project to move forward on all fronts simultaneously within an aggressive, yet realistic time frame. That is the backbone of Tambone's fast track system of development. Spearheaded by a project manager with an all embracing grasp of design, engineering, construction, scheduling and budgeting, a project on the fast track is rigorously streamlined and vigilantly controlled to be delivered on time and on budget. With all systems in place and all team members working in concert, we have the unique ability to accomplish several tasks at once – for example, obtaining financing and preliminary site plan approvals while developing building system configurations, which we are able to do in advance of coordinating and matrixing space and design requirements.
Open Book Policy
Tambone's commitment to creating partnerships with our clients is a cornerstone of our business. Nowhere is it better reflected than in our open-book policy.
Our determination to keep our clients apprised of the budget is rooted in our in-depth understanding of corporate realities and our sensitivity to the financial impact of every aspect of the development process – from a well negotiated site to the maintenance requirements dictated by the choice of finishes. By opening our books, we offer our clients:
Line-by-line itemization of all costs, including land and construction costs, as well as architectural, engineering and brokerage fees, financing fees and interest payments.
Advance knowledge of all potential increases and decreases.
On-going decision-making opportunities.
We believe that viewing the bottom line from a shared perspective virtually eliminates the margin of risk for our clients, thus expanding by wide measure the potential to create real, sustained value.